WiFi Pro Wheel Aligner
WiFi Pro Wheel Aligner
Ref: WIFIPRO
Description
The WiFi Pro wheel aligner takes wheel alignment to a new dimension. This is the ultimate in portability from Absolute Alignment, a 4-wheel aligner that runs off an android tablet with no cabinet in the workshop.
This 8-camera CCD system connects to your tablet and built-in software via a dedicated wi-fi access point on your office network.
The enhanced interface makes carrying out the alignment work simple. The tablet comes with strong magnets so it can be attached safely on the ramp or the vehicle by your side as you work. The Operating System is enhanced too, with extensive use of new graphics and animation to speed up throughput. Snap and Go capability allows quick location of the correct specification via number plate recognition technology.
Once alignment is completed, connection can be made to the office printer to provide our usual professional report for the customer. The re-designed measurement heads can be stored on a wall mount for safe re-charging, meaning the workshop is safe and tidy for other work.
Download PDF info sheet here.
NOW - Comes with FREE wheel clamp extension arms to fit most modern SUVs.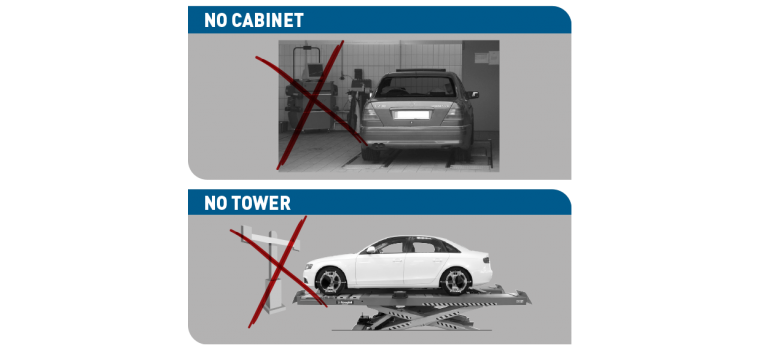 The WiFi Pro is an exciting alternative to our market-leading Bluetooth Pro Wheel Aligner for workshops with limited space.
Wheel alignment is a growing market. To learn about how important wheel alignment can be check out our consumer site www.absolutewheelalignment.co.uk
Supplied With
Rugged Android tablet with fixing magnets
WiFi access point
Operating system compatible with ADAS calibration - IOS version available
Operating compatible with Shoot & Go for fast vehicle identification
Pro wheel clamps
Re-designed quick-charge 8-sensor CCD measuring heads
Wall mount/charger for heads and clamps with USB charger and mounting point for tablet
Brake pedal lock
Steering wheel lock
2 x turnplates
SUV wheel clamp extension arms
12 month warranty
Full onsite training
FREE internet software support
Join our online User's Group for support, hints & tips HERE